What Happens on the First Day?
As first-time homebuyers, we didn't know what to expect on our closing day. We didn't even know that "closing day" was the name for the day you officially buy your house. Luckily, our loan officer, Jessica Nicolella, and realtor, Laura Gray, explained the timeline and guided us through all the steps from pre-qualifying for a loan to getting the keys to our first home. (More about these incredible professionals and the home buying process in future stories.)
We were emotional on our closing day — excited, nervous, proud, and eager to get started. Here are the highlights from that day.
The first big thing we did was give the title company a cashier's check for a

lot

of money — the downpayment and other closing costs— to buy the house. Because of the rules to slow the spread of the coronavirus rules, we and the escrow officer (a neutral third party who facilitates the real estate transaction) wore masks at the closing table and our realtor, Laura, could only join us at the end (in a mask, too, of course). We left with a stack of official documents and the keys to our new home.

We drove directly to the house and immediately changed the locks on the front and back doors, as well as the keypad code for the garage door. The sellers

seemed

trustworthy, but they may have lost track of people who had keys to their house or not even known about copies made by neighbors, dogwalkers, cleaners, or other people who may have checked on the property. This quick step gave us instant peace of mind that we can control access to our house, now.

Hardwood floors are very popular and expensive, so we hoped to find original oak floors beneath the carpet and tile. Watch the

video for the reveal of what we found

. 
HOMEOWNER TIPS
As general contractors, we're responsible for planning ahead for our projects. This is true for our own home renovation, too. Although your first day may look different from ours, especially if you're not remodeling, we wanted to share what we brought with us to be prepared.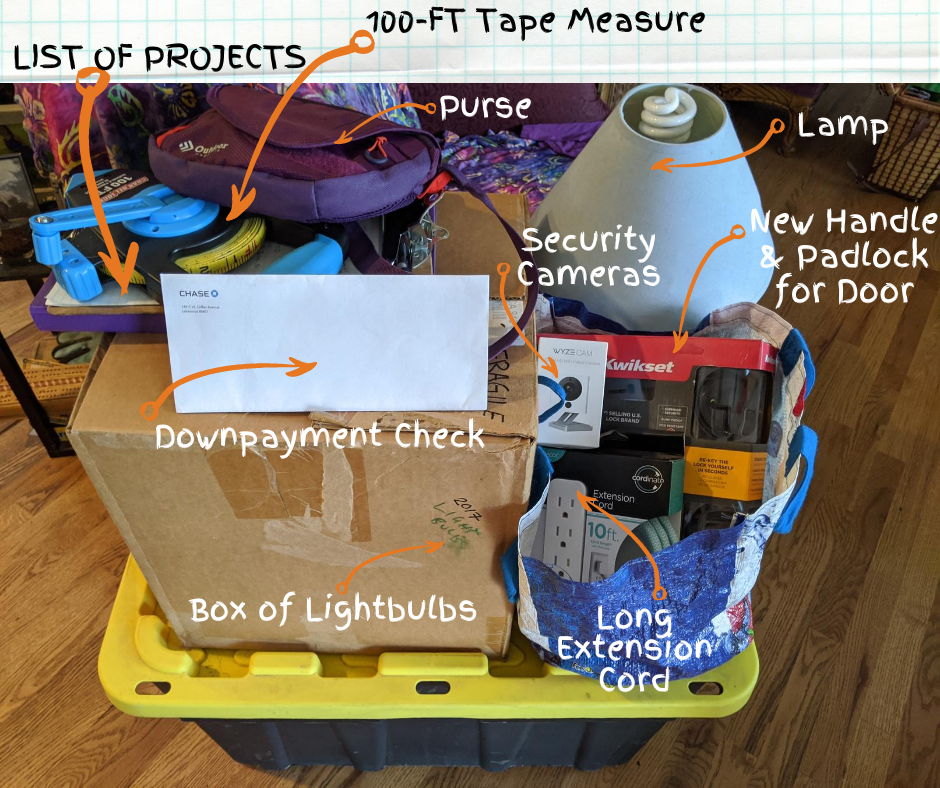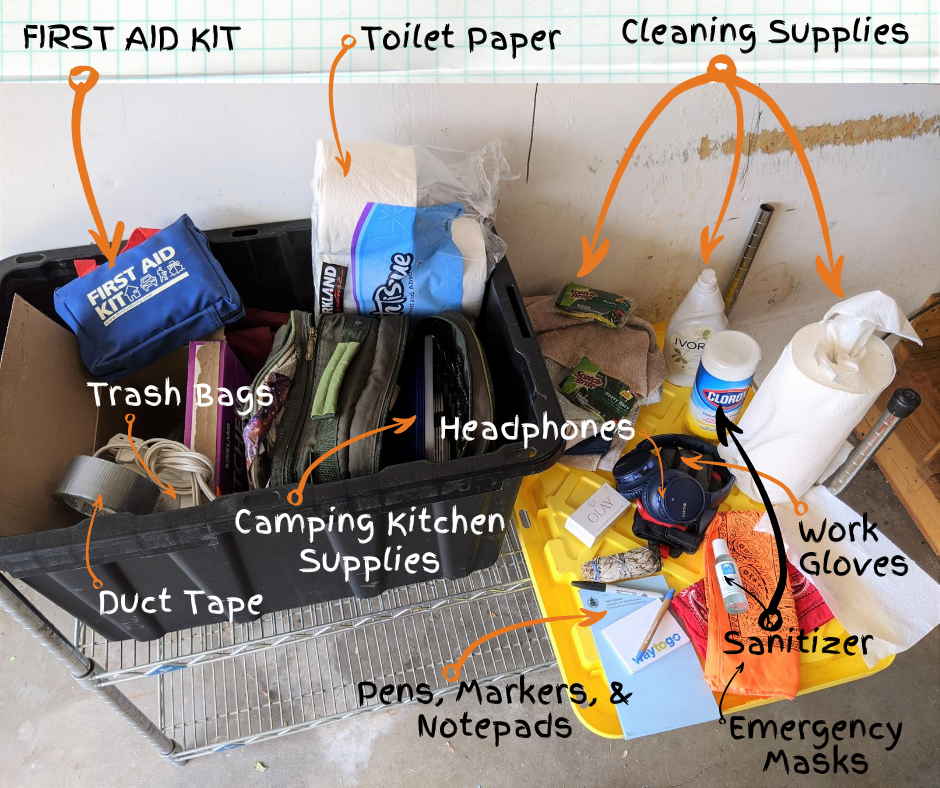 List of Projects

on my clipboard to organize notes & questions

100-FT Tape Measure to 

take measurements for our remodel plans and whether our furniture will fit in rooms

 

Purse

with personal things like my ID (needed for closing), wallet, phone, & keys to the house we're still living in

Downpayment Check

with closing costs in secure funds like a cashier's check, made out to the Title company

Lamp, Lightbulbs, & Long Extension Cords

to make sure we can still have lights and power as we remodel

New Door Locks & Wi-Fi Cameras

to make our new home secure

First Aid Kit 
Toilet Paper

(Ahem! Lady on the jobsite)

Cleaning Supplies, Trash Bags, & Sanitizer

are useful no matter what condition the house is in when you move in

2 Bandanas for

Emergency Masks

for unplanned meetings with contractors during COVID-19 (in case we don't have our masks)

Work Gloves

to protect my hands during the remodeling projects & moving in

Pens, Markers, & Notepads

for endless lists & labeling materials

Bluetooth Headphones

for music & podcasts without wires getting caught on everything

Duct Tape

to fix everything!

Camping Kitchen Supplies

for eating until we unpack our kitchen
Delivering top-notch home improvement and renovation services in West Denver and the Foothills!
720-610-6615
BeamstoBasements@gmail.com